I've always dreamed of a walled garden (think the children's book
The Secret Garden
as well as the scene from the movie
Notting Hill
where Hugh Grant and Julia Roberts scale the fence into a private garden) and for the time being this is it. No, it's not your traditional completely enclosed private garden with ivy/ficus covering the walls but this is at least a good starting point - hopefully one day I'll eventually have the real thing.
I can't seem to locate any of the before photos of the courtyard however suffice to say (based on state of the house as described in the previous post) it did not look anything like it does now. The whole place was grey and drab - dull concrete pavers surrounded by a 20 year old unpainted paling fence. There were a few random flower beds here and there yet nothing grew in any of them. Basically it all had to go - like the inside of the house I wanted to eradicate all traces of the house's previous inhabitant(s) and make it my own.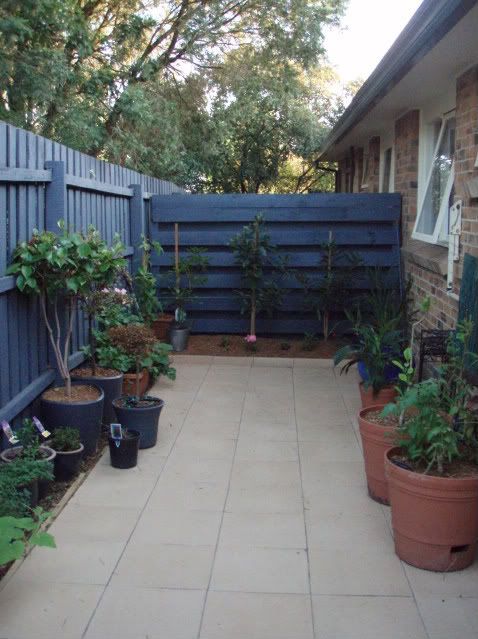 I knew that I wanted sandstone style pavers - with such a small space you want it to look as bright and light as possible. These pavers were $$$ - just this lot here cost over half a month's pay and that was just the pavers by themselves. These pavers were also ridiculously heavy - they came shrinkwrapped in a pack of 3 which weighed around 40kg per unit (so more than 10kg each!). The poor guys who delivered the these had to unload each of these units by hand and stack them in my carport - it was ridiculous that the garden supply place that they worked for didn't provide them with a truck and forklift to ensure that they avoided any manual handling issues with unloading such heavy loads. I was tempted to contact Worksafe to let them know about the dodgy working conditions however I was worried that all it would do was stir up trouble and cause problems for the two guys involved. Anyway with the help of my mum's paving man the whole place was transformed in less than a week.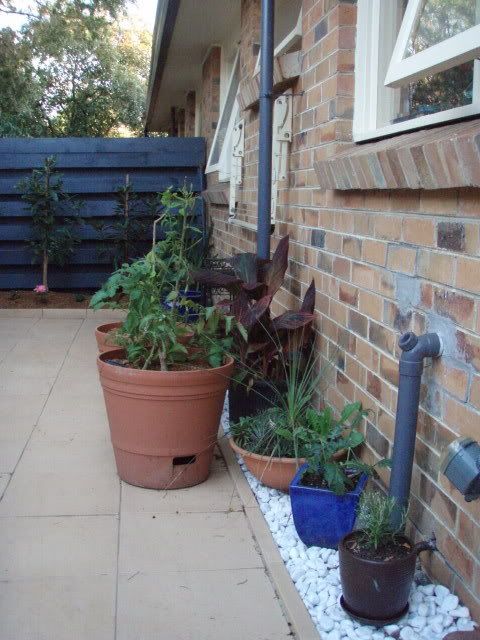 As you can probably tell I like pot plants - well its not so much that I like them but up until now I had moved house 3 times in 5 years and when you know that where you're living isn't going to be your 'permanent' home then you tend to keep things which can easily be picked up and moved elsewhere. The one problem I am finding with my pot plants now is that I have such a random collection that most of them really don't 'go' with each other (hence the whole still being forced to live in a pot) - I am yet to figure out where to position each and every one of them aside from the magnolias which you can see planted in the far garden bed. I also hate the idea of letting the ones that don't fit in wither up and die especially since many of them I have nutured in their pots for the better part of the last decade!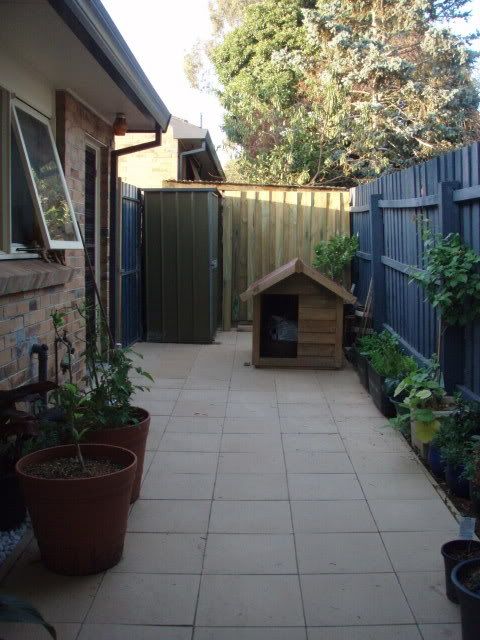 No, the kennel here isn't one that I bought for harry puppy to 'grow' into. It was from my greyhound obsession phase. When Mr Kitty moved in and had Foxtel connected I discovered the Sky Racing channel and most nights they show greyhound races. I loved watching them race and then I found out about the
Greyhound Adoption Program (GAP)
where you can adopt ex-racing greyhounds as pets. At the time I wasn't completely sure I wanted a permanent dog however they have a program where you can 'foster' a greyhound. Fostering a greyhound means that you're essentially helping it through the transition phase from being a racing/working dog to a family pet. If you fall in love with your foster greyhound then you will also have the option of adopting him/her. It's kind of like trying before you buy - pet ownership is a big responsibility (especially dogs) and this way you can know for sure if you are really ready for it. Anyway the I bought the kennel especially in preparation for fostering a greyhound (see I told you I liked buying things!) - its a state of the art canine home complete with red colourbond roof! (yes I've been known to stare at it just like the tv commercial! lol)
Stay tuned for a not so distant post featuring my foster greyhound 'Peggy' soon.